About Us
Work with Top Realtors in the Tri-Valley Area

Meet Gene Williams - Team Lead
For more than 40 Years, Gene has distinguished himself as a top Real Estate Consultant in the Bay area of California with buyers and sellers of residential and income properties. "He takes the time to listen to our clients," says Cindy his wife, "and they tell us [that] this empowers them to fully maximize their investment options. With a solid background in Real Estate & Finance, plus multiple special certifications, Gene established himself early as an exceptional Realtor having a good understanding of residential home sales. With highly polished skills in construction and finance & real estate sales to draw upon, he is able to deliver successful and satisfactory transactions for his clients.
Gene says, "Clients tell us how grateful they are that we spend as much time as they need to understand each step of the transaction. If clients will meet with us for about 1-2 hours for a complete Real Estate Financial consultation prior to their purchase or sale of their home, they then can relax and enjoy the process. We want to treat one of the largest single purchases that one makes in their lifetime with the greatest of care and expertise. They appreciate that we stay in continual contact with them during and after the sale or purchase of their home. We are interested in life-long relationships with our clients."
Gene is active in his community's Men's Ministries and KW Cares Charity. Gene and his wife, Cindy, live in Livermore, California, and are the parents of five children and 7 grand-kids. Since moving here from Idaho where he was born and raised, Gene loves to Deep Sea Fish, and enjoys cooking for friends and family.
Gene & Cindy are happy to report the ongoing success of their business and as a result, continued referrals from satisfied customers!


Meet Cindy Williams - Team Realtor
Being a single mom can create many obstacles and challenges in a woman's life, yet when Cindy Williams had to sell her home, little did she realize how life changing this transaction would become for her. Raising her children by herself, she moved to Pleasanton. Being a people person, it was natural for her as she enjoyed being a recruiter with Pacific Bell. She considered herself a matchmaker- matching people to jobs. Then, there was the dot com crash and her job went by the wayside.
During all of this, she decided to sell her home. The buyer's agent, Gene ( now her husband ) was understanding & compassionate about her situation, one year later they were married. Knowing Cindy so well, Gene and her broker told her, "You have to do Real Estate, you would be really good." Then she made the change, saying "I changed my thinking to, Okay, I was always a matchmaker – people to jobs, and now I am a matchmaker – people to homes." Looking back she laughs, "Gene recruited the recruiter." They truly complement one another.
Cindy's first year in business was remarkable as nominee for the Bay East Association of Realtors "Rookie of the Year". She received the Rising Star Award and Master's Award. Cindy loves decorating homes, so she also became an Accredited Staging Professional. Cindy believes in building strong, lasting relationships. She dedicates her time to serving her clients and ensuring that their goals, dreams and visions are realized.
To Cindy, success is not just about having a lot of money: it's about helping others and giving back to people. She says: "If I'm successful, someone else is going to receive it too. If it all went away, what do we have? We have the best gift of all. We have our God, we have each other, we have our awesome children/grandchildren and there is nothing more important than that."


Meet Tara Breazeale - Team Buyer's Agent
Tara is currently a successful small business owner in the interior design industry. She shares a passion of not only helping people find inspirational homes, but also helping people to fill their homes with inspiration once they've purchased. Tara is focused on reaching the goals and needs of her clients and she specializes in bringing a high level of commitment and dedication. As the buyer's specialist of the Williams Team, Tara finds it really rewarding getting buyers to that finish line and handing them over the keys.
Prior to real estate and interior design Tara worked in law enforcement & fire services. She answered 9-1-1 calls; dispatching police, fire, and medical to our 9 Bay Area Counties. Tara became very familiar with geography and was highly skilled in making critical decisions amid chaos and stress.
Tara believes in giving back and primarily focuses on supporting the families of children whom are battling cancer as well as sponsoring children who have little to nothing to eat; living in poverty stricken countries. In Tara's free time she enjoys watching her children play whatever perspective sport they are in that season; be it baseball, football, soccer or track. She loves almost anything to do with the great outdoors. Being in nature and close to water is a very happy place. She has 3 small crazy dogs that she loves to cuddle up with during movie time.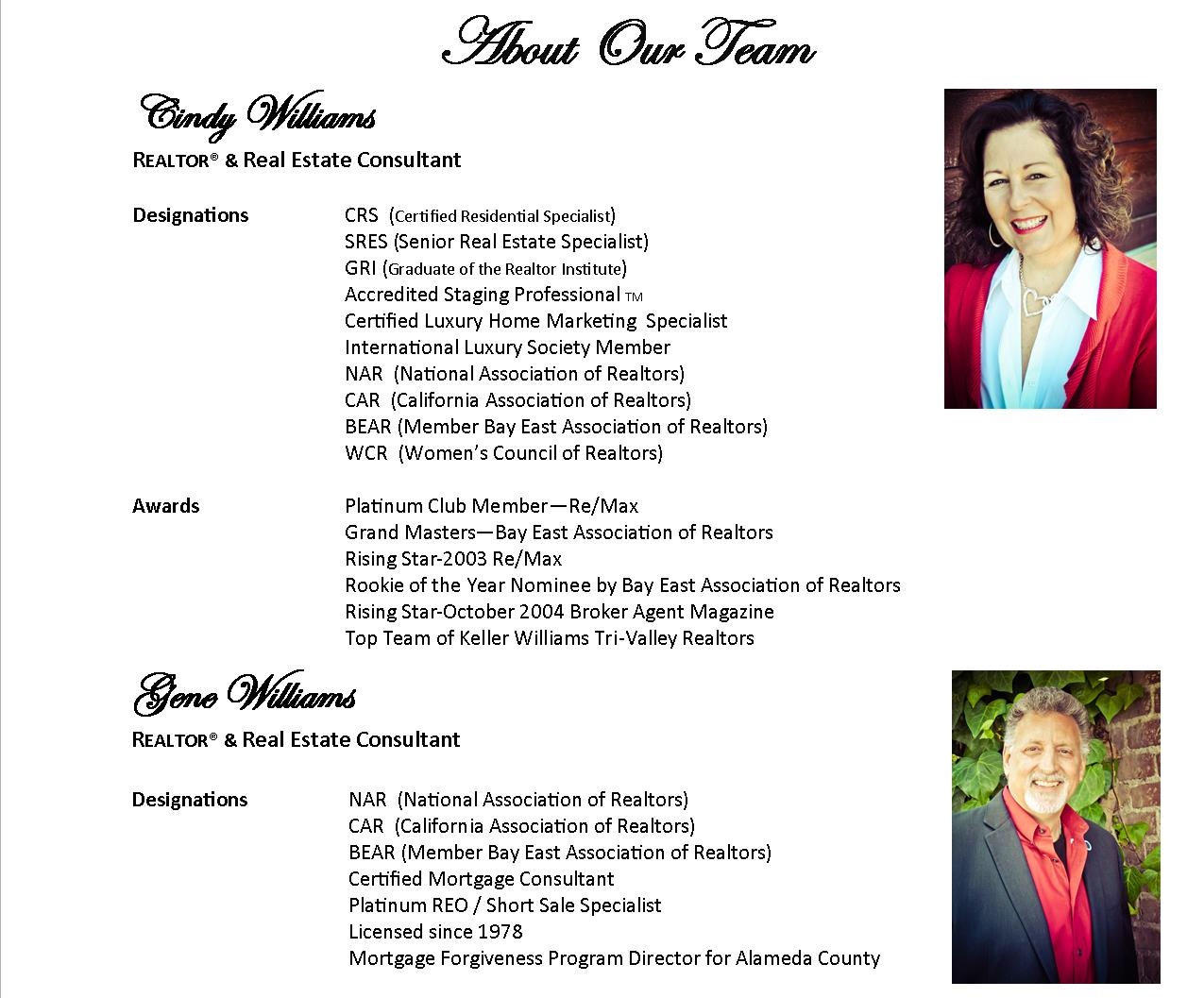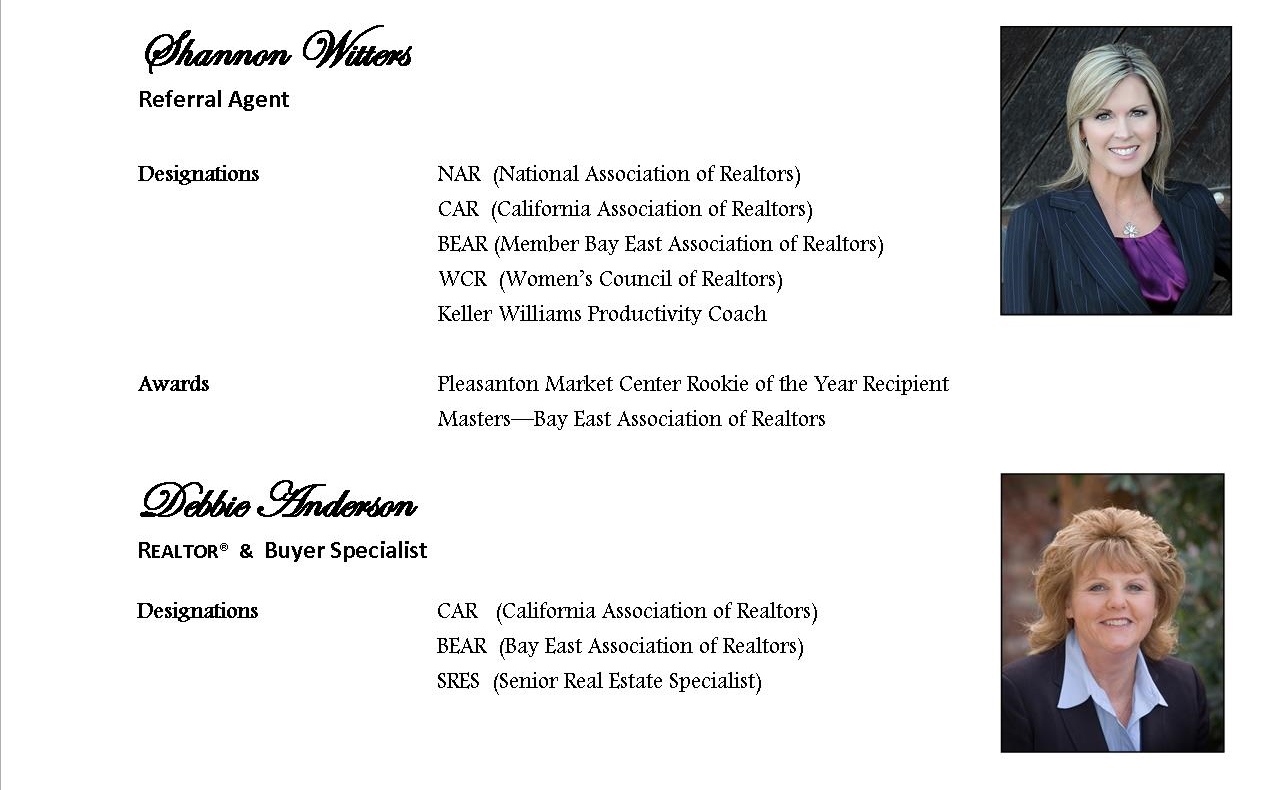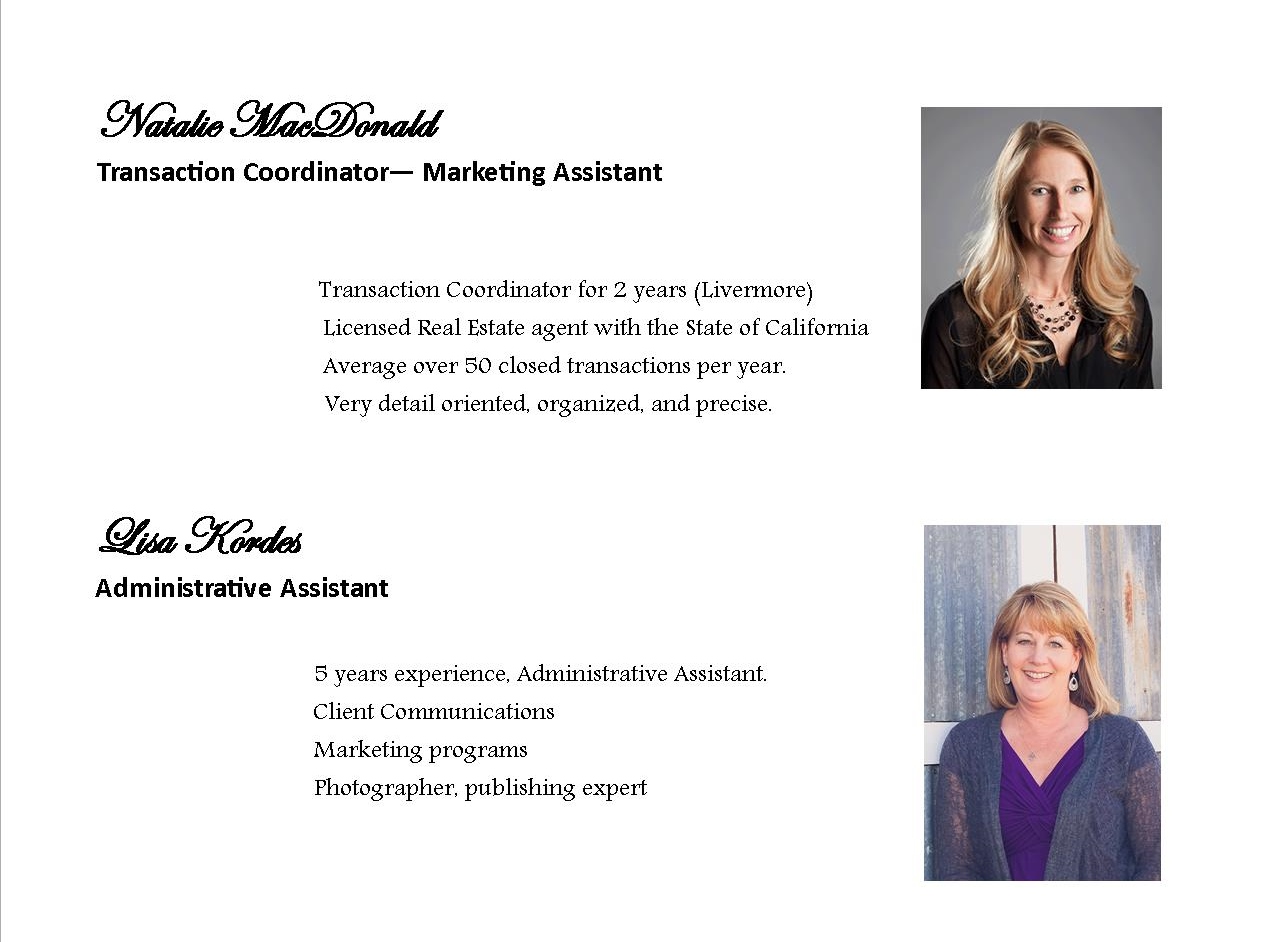 Keller Williams Tri-Valley Realty
660 Main Street, Pleasanton, CA 94566
Keller Williams Tri-Valley Realty
Gene & Cindy Williams
CalBRE License Number(s): 01370076, 00607511